"I am listening to Bill Evans at the moment and the sound is really divine. The combination of the cartridge and preamp really brings out the best of this vinyl recording."
"Hi Pal, The icOn 4PRO arrived safely. Wow, what fantastic packaging, inside and out! Beautiful piece of equipment! It has been installed and connected. Everything is ship-shape. Just now listening to it in the system with a Soundsmith Strain Gauge preamp and cart via unbalanced RCA. And thank you for the chocolates!
I must say that so far I am very impressed with the entire experience. Communication payment has been very easy and painless. It has been a real pleasure. The early shipment was a nice surprise and shipping was completely straight forward with no gotchas. And the packaging is beyond professional. Exceptionally well thought out. The final product is a pleasure to the eye and senses, not to mention to the ears. Well done."
Thanks, best regards and Merry Christmas,
Ron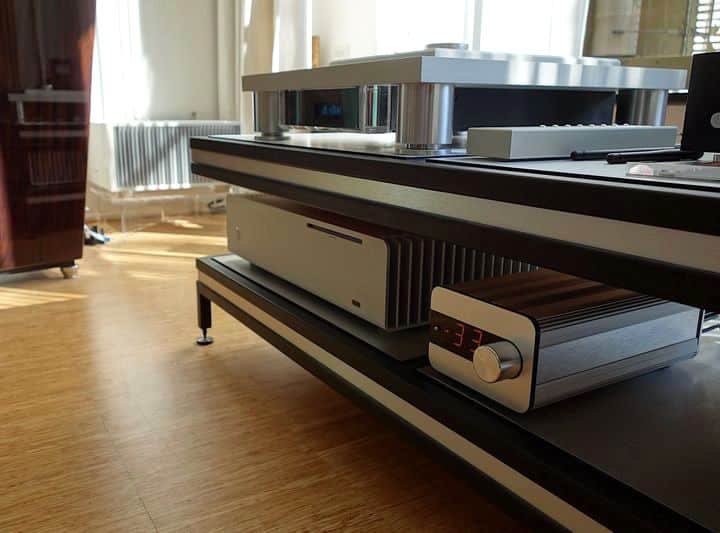 After a month of owning the icOn 4 Pro, I must say that I like it very much. It has no (or perhaps very very little) signature of its own. The significant more volume steps and the ease of use brings also happiness. I did have many preamps over the last 50 years but this jewel beats them all…
Robert,
The Netherlands
I am an extremely satisfied customer. I was looking for a passive preamp
to feed my Jadis DA5 with a signal coming from   some  DAC's (fed by a Prime Mini
as Nucleus core for running Roon).
I needed three inputs (for the different voltages of the DAC's (1, 2, 3 V)) and just one output.
The output was adjusted to the particular max. output level of my Jadis (400 mV) to avoid clipping.
Whenever the preamp is turned on, it starts at level 4 (almost silent).
All this tailor made by Pal, who was extremely helpful (we chatted a few days to get the optimal
setting).
The price tag is hefty, yes, but for a tailor-made machine of this extremely good quality, it is
more than reasonable (although not a bargain). I refrain from any comparisons to describe
the sound quality: I am totally satisfied and could not wish for anything better.
5 stars!
Jürgen Dix
This is a very impressive amp, beautiful quality build and simple, functional, elegant design.  A famous designer and leader in the Victorian arts and crafts movement had a couple of sayings,"Less is more" and "Do not have anything in your house unless you know it to be useful or believe it to be beautiful ".  I believe your amp fits all those categories perfectly! You have produced an amplifier that sounds wonderfully detailed without a hint of harshness that clearly surpasses earlier amp I have and the xxxxxxx (another magnetic passive preamp) I have been comparing it to. Many thanks for the marvellous amp,
Best Wishes, Mark.
---
Hi Pal
I listened a lot at the weekend, and he sounds heavenly.
So open and clear, without coloring, it looks like you are listening to real instruments.
Really wonderful, amazing.
Best regards,
Marcel from the Netherlands
17 June 2019
---
Hello Pal,
I'm happy to report that the Icon arrived safe and sound and that I'm very pleased with the quality of build and appearance. Shipping was very fast and well worth the price. I listened to it for a couple of hours yesterday and today and it sounds wonderful.
It is noticeably clearer in the mid-range than the passive unit I've been using for the past few weeks. The highs and bass seem about the same as the Adcom which is quite good, but the mid-range is definitely more prominent and clear. Overall, the sound quality is at a higher level. At this point, I believe it will be impossible to return to an active preamp no matter how high the quality or cost.
In the past, I've had some very high end preamps from Mark Levinson, Rowland, Coda, and Classe that could not deliver the detail that a great passive unit like yours easily provides.
Vocals, guitars, piano, and brass all sound more vivid and real with extra detail and clarity. Music is full and exceedingly dynamic.
The Icon is a very fine product and I hope you sell many of them.
Overall, I am very impressed with your product and the level of communication is outstanding. I'm looking forward to many years of trouble free service from the Icon and great sound too.
I wish you continued success and a bright future with your products.
Very sincerely,
Robert Devoy
Philadelphia, USA
---
Hello Pal,
Just a quick update on the preamp. Results of listening tests with classical and popular music are excellent! The amp is performing superbly bring out the smallest details of my recordings.
Mark Mackey, UK
---
Daarna begon hij te zingen en wel in het hoog wat ik omschrijf als ; zijdezacht, niet Upfront. Het laag kwam wat later en wel wat men niet zozeer zou verwachten van een buizentrap maar meer van een torrenbak.
Laag is niet "zwabberig"maar strak en is weg als het weg moet zijn.
Stemmen zijn altijd met kippenvel aanwezig, blijf hier elke dag van genieten.
Wat mij ook is opgevallen dat in de stemmen totaal geen geforceerdheid aanwezig is. Bij de hoge vrouwenstemmen blijft de stem overeind, zijdezacht.
De Icon geeft je ook een kijk in de instrumenten. Het volume is zeer aangenaam, of comfortabel zoals u wilt, in bediening. Zeer verfijnd.
Voldoende inputs en outputs voor mij.
Fons de Boeck, The Netherlands
---
Hi Pal,
Well received the icon today and setup into my system.
Thanks for putting my name into the unit, it looks so unique. I tried many CD today using TVC mode and sound similar to my Django, with improvement on both clarity and bass.
Richard Chow, Hong Kong
---
Dear Pal,
Just wanted to let you know that I'm very happy with the preamp.
At first glance it sounded almost the same as my 300B preamp, but without
the noise and hum. Later on, as the preamp got burned in, the sound opened
up and I got a very nice wide open detailed soundstage. After that, the
bass got very quick and tight, much better than the 300b amp did.
The preamp also sounds really nice on a low level. With the 300b amp I
sometimes found myself with peeping ears because I played too loud in order
to get a 'live sounding' sound.
The ultra low noise of the preamp is a big plus. The noise level coming
out the horn speakers is very acceptable.
Best Regards,
Jeroen