REBIRTH OF AN AUDIO LEGEND
icOn4  AVC (autoformer) passive preamp with remote
"I have to rate the icOn4 as excellent ..." MARTIN COLLOMS
Latest feedback from a happy customer:
This is a very impressive amp, beautiful quality build and simple, functional, elegant design.  A famous designer and leader in the Victorian arts and crafts movement had a couple of sayings,"Less is more" and "Do not have anything in your house unless you know it to be useful or believe it to be beautiful ".  I believe your amp fits all those categories perfectly! You have produced an amplifier that sounds wonderfully detailed without a hint of harshness that clearly surpasses earlier amp I have and the xxxxxxx (another magnetic passive preamp) I have been comparing it to. Many thanks for the marvellous amp,
Best Wishes, Mark
Mission and Vision of
the icOn4 passive preamp design
The design of icOn4 was inspired by John Chapman's legendary Bent Audio TAP-X passive preamp and his "Slagleformer" modules that were very popular 5-10 years ago, and sadly no longer available. The TAP-X was built using the excellent autoformers of Dave Slagle, Intact Audio - offered the only magnetic passive preamps with a remote, microprocessor control and smart, non-linear relay switching technology available at that time. These innovative "Slagleformer" volume controller modules were built into several highly successful high-end preamps as well as being available too as OEM parts.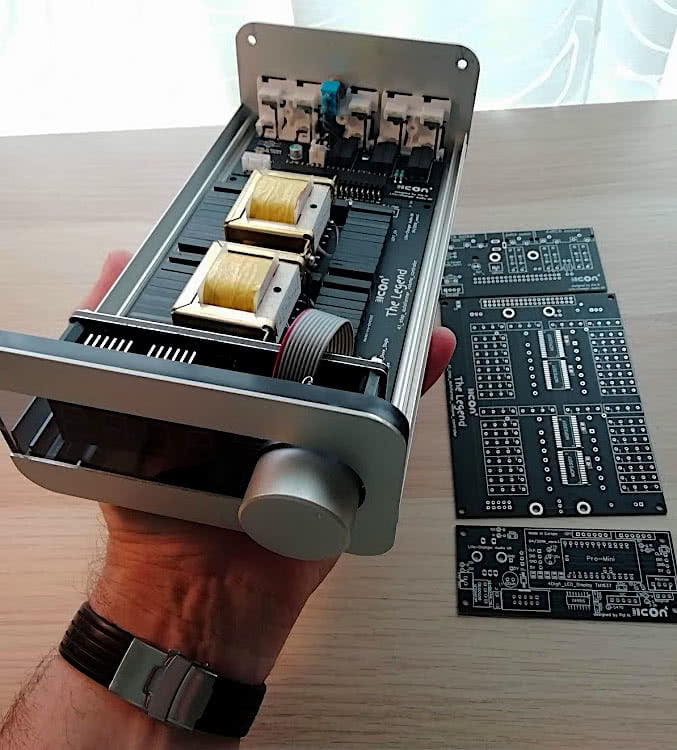 My goal with icOn4 was to offer the audiophile community a redesigned and updated version of John's preamp using Dave's world-class autoformer volume controllers, combined with a fully functioning remote control and sensible pricing. I feel that with icOn4 my mission has now been accomplished - enjoy the new icOn4 - its the real deal!
icOn4 uses a high  performance microprocessor, sophisticated firmware to control not only the basic features like volume, source selection, but also balance, instant mute. AV BYPASS, night mode, sleep, etc..
These features are simply missing from other passive transformer based preamps, meaning icOn 4 has a much higher level of versatility from the comfort of your armchair)
For volume level adjustment, icOn4 uses high quality hermetically sealed reed relays or Vishay FET switches for selection of the autoformer taps, ensuring contact error and noise free operation, which conventional rotary switches are prone to.
Furthermore by the use of these relays the signal path is kept remarkably short, thus  reducing possible interference to a minimum.  This compares to the more common rats nest found in many TVC/AVC passives which can be prone to interference pickup.
Why use an autoformer volume controller?
The simple answer is that most people find that the autoformer volume control sounds significantly better than even the best potentiometer or stepped attenuator. And it's not a subtle difference; most people report that the autoformer has such an open, effortless sound that they would not consider going back to a resistive device.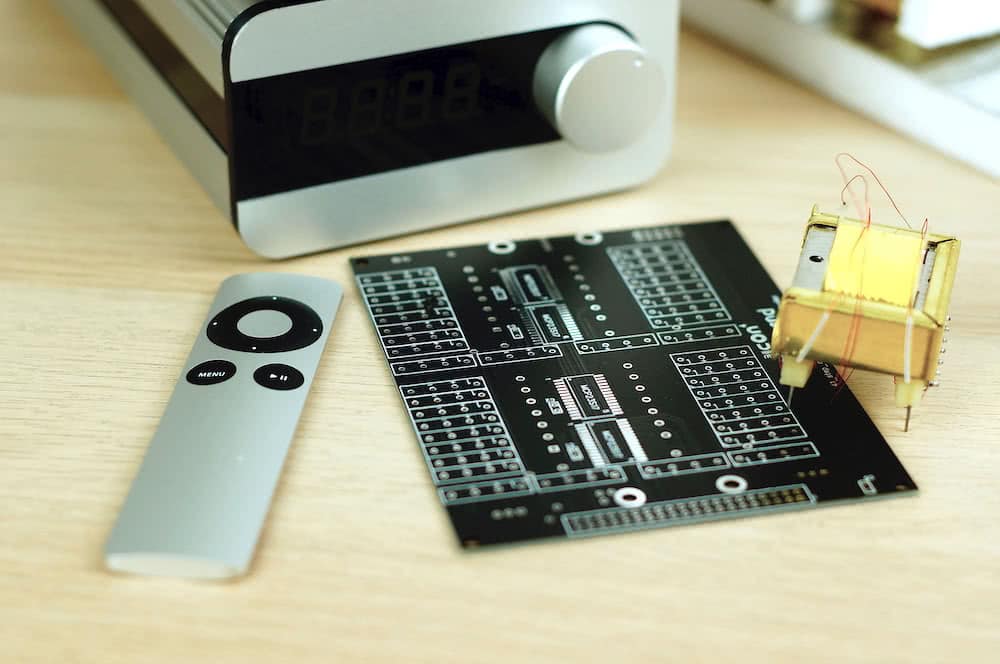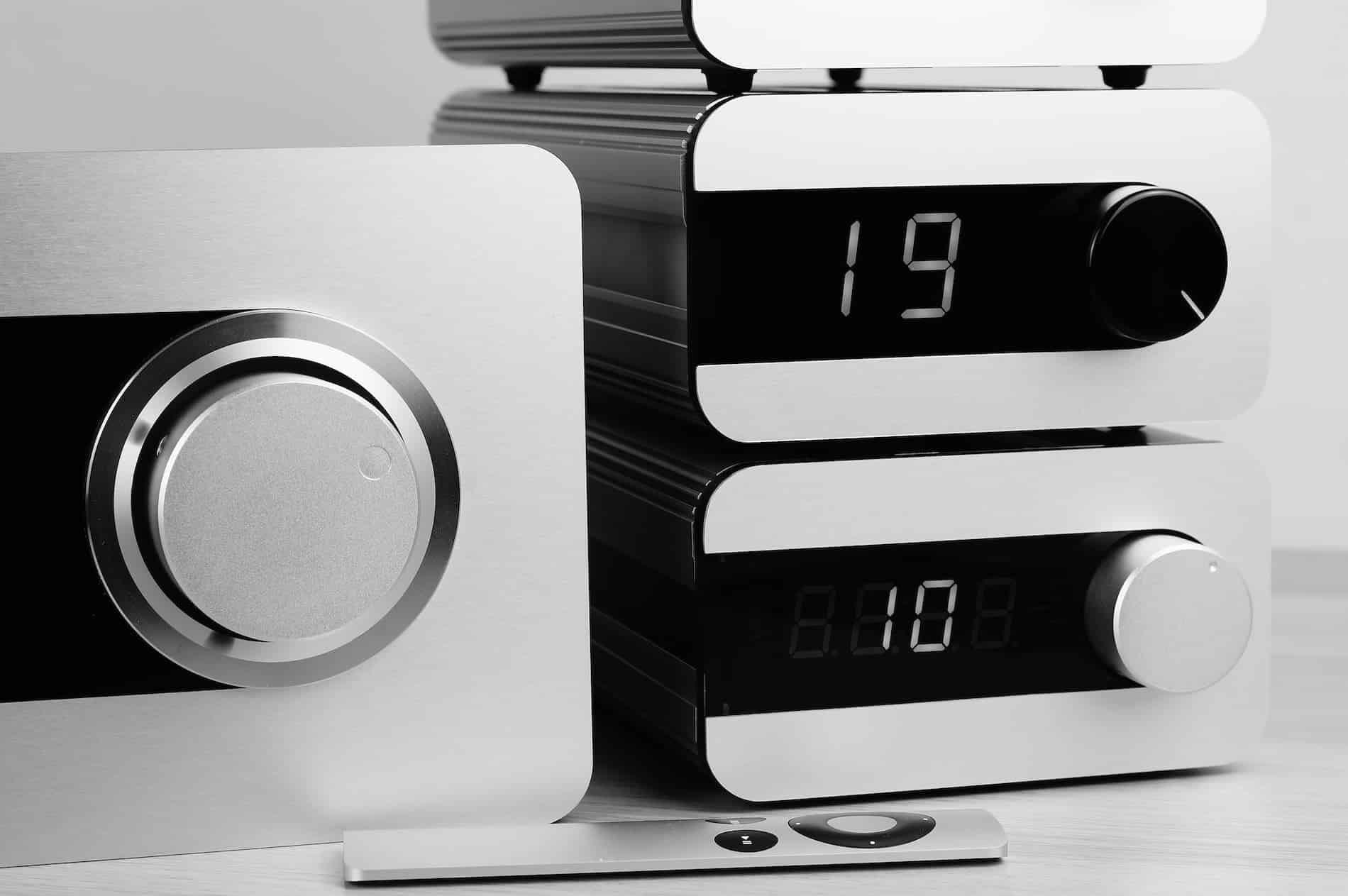 Ultimate technical specification
- ahead of the competition
unbalanced inputs and outputs, 4+1 or 3+2
autoformer volume control with 40 volume position
smooth control (1.5 dB steps) even at the lowest volumes
broad volume range: from -54 dB to +3 dB
balance: +/- 7.5 dB
distortion: less than 0.01%
channel mismatch: less than 0.1 dB
instant mute
full remote control with Apple Remote
7 digit LED display for volume, balance and input
2 display brightness and night mode
AV bypass function optionally
non linear switching algorithm executed by hermetically sealed miniature reed relays or Vishay FET switches
lifetime of reed relays: 1 billion switches (approx. 500 years)
power: 5V/200 mA
size:  HxWxL 70mmx120mmx260mm
weight: 2 kg
warranty: 2 years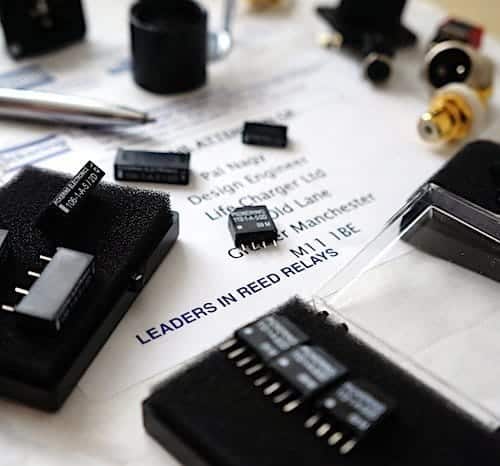 Have you realised, that most passive magnetic preamplifier looks the same... TWO knobs and nothing more?
icOn4 only has ONE knob for a silky smooth optical encoder, that gives instructions to the microprocessor (along with the Apple remote) on what to do. We don't use old school, limited life expectancy rotary switches, only professional, very long life reed relays and Vishay FET switches with unlimited lifetime.
The best quality rotary switches have 25k switching cycle lifetime, till reed relays have 1 BILLION! switchings. An icOn4 has 48 pcs reed relays and within 1 sec 4 switching can happen...Do the math and you will see, that you have to push continuously the volume button of the remote... 24/7 for hundreds of years to reach the end of life of icOn's reed relays. That's what we call reliable and bulletproof!
Comparison of passive magnetic preamps
| Function or parameter | icOn4 AVC preamp | general magnetic passive preamp |
| --- | --- | --- |
| volume control device | built on Dave Slagle's autoformer (AVC) | AVC or TVC |
| number of volume positions | 40 | 24 - 32 |
| volume step size | 1.5 dB | 1.5 - 2dB |
| balance control | yes | no |
| full remote control: volume, balance, inputs and other functions | yes | no |
| display | yes | no |
| built in microprocessor with smart functions | yes | no |
| switching device | reed relays or Vishay FET switches | open contact rotary switches |
| mechanical life of switches (number of switch cycles) | approx. one billion | less than one hundred thousand |
Main features:
40 volume positions
reed relays or Vishay FET switches. You decide!
3 inputs and 2 outputs or 4 inputs and 1 output
balance
AV bypass as an option
night mode and low brightness for the display
sleep mode
Apple remote
The improved switching time of the Vishay FET switches offers smooth control without audible glitches and they have an unlimited lifetime. The volume changes with reed relays can generate very faint clicks with certain program materials at high volume listening.
Introduction of the new icOn4 PRO is coming soon