a smart audio switching technology to replace the outdated, unreliable rotary switches.
microprocessor-controlled reed relays with remote control
flexible for any step numbers
1000 times longer lifetime
balance, mute, other smart features
affordable, made for DIY audiophiles, OEMs
Life-Changer Audio UK is committed from the beginning to deliver the most advanced, high tech analogue and digital technologies and solutions to the audiophile community. All this at a sensible price level and without any snake oil. This is why we have chosen the microprocessor-controlled reed relays for our highly successful and popular icOn TVC/AVC passive preamplifier family.
Now with IRotary, we offer our refined, innovative switching technology to a broader public like DIY audiophiles, OEMs, resellers or to our competitors too.
The hermetically sealed miniature reed relays offer the highest quality, longest life audio switching with remote control possibility.
Flexible design for a broad range of step numbers and for different tasks, like passive attenuators, source selectors, balance control.
Perfect match for transformer or autoformer based passive attenuators (TVC, AVC)
Any kind of linear or nonlinear switching algorithm to choose from.
The highest possible step number for the mechanical rotary switches is 48. IRotary easily offers even 128 or 256 attenuator levels together with an appropriate autoformer and nonlinear switching.
IRotary is a modular system with max. 128 reed relays (16 relays/switching board), microprocessor control board with rotary encoder and IR receiver and an independent LED display.
Usable with an universal learning remote or Apple remote, remote pairing function, 4 digits 7 segments LED display, optional 16 million colour LED light ring for optical feedback.
Balance control, mute, brightness control for the display, night listening mode, sleep function.
Using together with the IRotary input selector card, other smart functions like AV pass, automatic input level matching max. volume limit, etc. are available.
Low power consumption: 5V/0.2A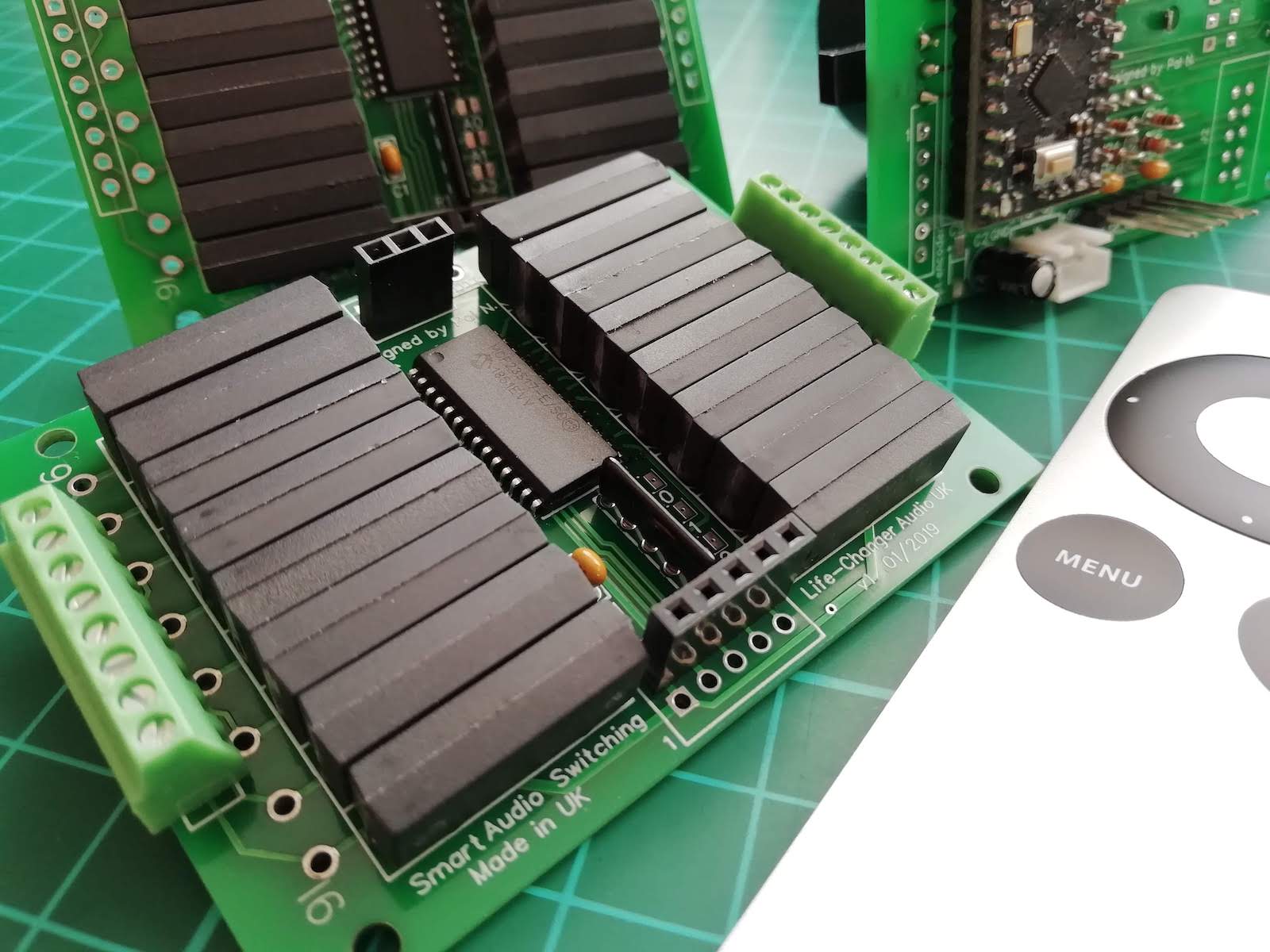 The best quality mechanical rotary switches have 25k switching cycle lifetime, till reed relays have hundreds of millions. In average an IRotary has 50 pcs reed relays and within 1 sec 8 switching can happen...Do the math and you will see, that you have to push continuously the volume button of the remote... 24/7 in all your life and you won't reach the end of life of IRotary's reed relays. That's what we call reliable and bulletproof!
Prices starting from
£260 / €299 / $324
Depends on the number of switching boards, relays and other options like input card, remote controller and the extra firmware features.
Are you interested?
Tell us about your planned application and we will send you an offer. We can supply different TVC and AVC attenuators together with the IRotary if you need a pair.